Description
Frustration to find things inside nappy bag is real!
Frustrated to find sudo cream in the bag while baby is crying on changing mat? The Oxford Nappy Bag makes parenting a breeze with its whopping 14 pockets and extra features. You'll be able to find everything in seconds, which means less time wasted looking for what you need especially when baby is crying!
Nappy bag with bassinet

This Oxford Nappy Bag Backpack comes with a detachable portable crib and a soft diaper pad that is very easy to assemble crib with changing mat/sleeping pad ( 29.9 x 12.6 inch waterproof). A crib can be easily removed once the child outgrows to keep the bag lightweight.
Large nappy bag backpack with 14 pockets

Featuring an extra large capacity with 2 main and 12 functional pockets that meet all the demands of a mummy, Our diaper bag backpack will help you organise various items such as and store bottles, clothes, milk powder, toys, etc
✔ Thoughtful outside pockets for easy access to wipes and phone
✔ The front section has 3 insulated pockets to maintain milk temperature.
✔ Both sides with one elastic pocket to holder large size bottle.
✔ The privacy pocket on the back to store personal items for mom and dad
Stroller straps
A diaper backpack with stroller straps allows you to hang the bag on the stroller to keep your hands free.
Waterproof material
Made of Outside oxford and Lining nylon fabric that is Waterproof non-toxic, tear-resistant, and very comfortable to carry.
Extra pocket

Diaper bag comes with extra pocket to keep car keys and some other items easily accessible.
6 colour variations
With 6 different variations and colours you are sure to find the nappy bag backpack  for dad and mum.
USB charger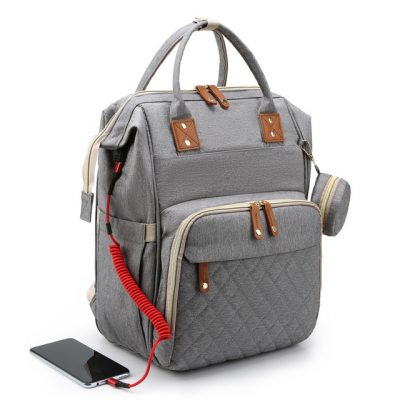 Our diaper bag comes with a bassinet so Baby can sleep or play in the baby bassinet with you. The baby bag backpack has 14 pockets with a large storage capacity.  Also, it has a USB charger so you never run out of juice.
Key features
✔ 14 pockets to stay organised
✔ Convertible portable bassinet with mosquito net.
✔ Separate water-proof pocket for wet clothes
✔ Quality waterproof oxford cotton material backpack.
✔ Easy access to wipes and mobile
✔ USB charger slot
✔ Insulated pockets
Gift new mum the convertible nappy bag backpack to make mom or dad's life easy.
Shipping
Our in stock products are usually dispatched from NSW within 24-48 hours.
Based on our previous deliveries below are the estimated delivery days. More accurate information per product is visible on product page above add to cart button.
NSW, VIC, QLD: 2-3 business days.
ACT, SA: 3-5 business days
TAS, WA, NT: 2-5 business days. We will arrange express delivery.
Remote locations may take longer. Additional $15 charge is applied for remote areas. However, we will arrange express delivery for this addresses so that customers can receive it faster.
Related products

Beige Teepee Tent

Blue Teepee Tent

Cream Teepee Tent
+3

Pink Teepee Tent

Purple Teepee Tent

Teal Teepee Tent