So are you expecting a new addition to your family? Congratulations! Now, it's time to search for the perfect nappy bag that can cater to both the needs of you and your cute little toddler and newborn. We are here to help you navigate through the various options and find the best bag for your expanding family and members.
It is pretty simple to fit your needs, however, many newbie parents come up with a number of questions during pregnancy. Whether it's about pregnancy carvings or going on vacation after pregnancy. Parallely, many questions about the actual use of these bags and how to choose the right one too. Considering this fact, we are here to answer all such questions and help you find the best nappy backpack for your needs. So, let's dive in and break down the scepticism in you and help you make an informed decision.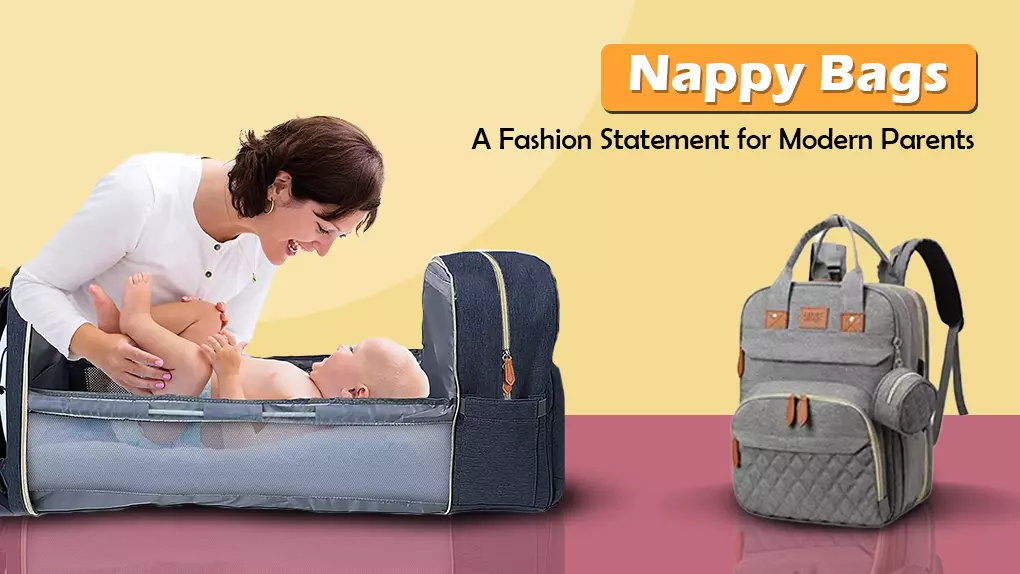 Is a Nappy Bag Really Necessary for a New Mother?
Nappy backpacks have been the trend in recent times. As a newborn baby has endless needs. There are a plethora of products that are used for a baby that we cannot even come to imagine. Taking care of a newborn even in the comfort of your home does not come easy, right? Now imagine going out for a vacation where you need to take all the essentials and also need to keep those handy. Won't you need something that will keep all those necessary things organised?
Here having a nappy bag can be your saviour. It comes with separate sections and pockets that make it very easy to keep all your products separated. When a baby needs a diaper change or the feeding bottle or toys, you can pick it up from a pocket at a go. Thus, ensuring you have a happy, safe and comfortable journey with your infant.
How to Choose Your Nappy Bag?
Nappy bags are a great way of carrying all your baby's essentials, such as dummies, bottles, nappies and wipes. So, before you buy here's what to look for:
Your nappy bag should be spacious enough to suit your needs
Make sure it is easy to carry
Should have wipe clean lining, a change mat and ideally an insulated bottle holder
Hold a change of baby clothes, feeding essentials as well as creams, wipes and nappies
Have an adjustable cross-body strap that makes it easier to carry and attach it to a stroller and
It should suit your style so that you can enjoy using it.
What Kind of Bag Do You Need?
As a first-time mom, you're probably tempted to go big or go home when it comes to choosing a nappy bag. But resist the urge! A giant nappy bag will be bulky and cumbersome to carry around, and it'll be hard to find what you need when you need it. Instead, opt for a medium-sized diaper bag with a wipe-clean lining. It'll be big enough to fit all your essentials, but small enough to be comfortable to carry. And if you find yourself needing more space, you can always add a backpack nappy bag insert.
What Style Do You Need?
Hello, new parents! Listen up, choosing a diaper bag is a big decision. It's gonna be functional, stylish, and able to keep up with your busy lifestyle. If always on the go, a nappy bag is a great option. It's hands-free and can carry all your essentials without weighing you down.
And if you're looking for a diaper bag that doubles as a stylish everyday handbag, a leather diaper bag is the perfect choice. It's chic and sophisticated, and it'll still hold all your baby's gear. No matter what your lifestyle is, there's a perfect diaper bag out there for you.
So take your time, choose wisely, and enjoy this special time with your new little one.
(P.S. Don't forget to pack some extra snacks and drinks for yourself, too. Parenting is hard work!)
Babysteps Nappy Bags: Experience Style And Function in One
Babysteps nappy bags are the perfect combination of style and function. With a wide range of styles to choose from, here's our nappy bag to suit every mum and mum-to-be. Whether you're looking for a stylish everyday nappy bag or a functional backpack nappy bag, Babysteps has you covered. And with a range of matching change mats and accessories, you can create the perfect look for you and your baby.
To have a look at our wide product range, VISIT: https://babysteps.site/product/leather-nappy-bag/.
Also, experience FREE SHIPPING worldwide on shopping over $99. Choose us today!