Having a baby is probably one of the best gifts that the expecting couple can think of. The baby shower is an auspicious occasion where the mother is extended a blessing from family as well as immediate friends.
This is the occasion that celebrates the gift of life and brings the entire family together. However, if you are brainstorming and wondering what are gifts that you can present to the expecting mother, we have got you covered.
More than being fancy it is very important that you choose gifts which are important and will help the parents further as well.
Setting up a nursery for the little one is not easy at all and it takes a lot of effort as well as resources. If you give something which lasts long and is important as well, it becomes a great aid for the-to-be parents.
Top Gift Ideas to Choose for BabyShower
As we have already discussed, BabyShower is a very auspicious occasion. Whatever gift you choose, it is more of a token of love for the upcoming new member.
However, choosing the right one thoughtfully can be quite helpful.
Some of our top picks from this selection include: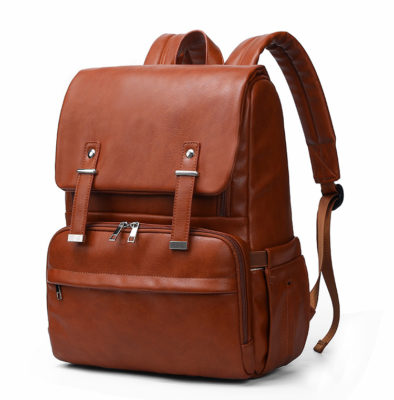 If there is something that is required the most when it comes to babies, it is definitely the nappy bag. A nappy bag is usually multipurpose and it can be used not only for organizing the baby stuff but is also instrumental if your baby wants a comfortable and safe sleeping place while on transit.
This particular variant from BabySteps is a fantabulous choice as it has a bassinet attached which helps the little ones snuggle comfortably.
The bag is perfect if you want to go somewhere for a day out and don't want to carry a huge bag. They have the right place for not only placing the nappies or diapers but you can easily adjust the feeding bottles, change of clothes and even maybe a simple toy.
This particular nappy bag has as many as 14 pockets which help in keeping the stuff safe and easily.
Moreover, there is a perfectly fine detachable padded crib that comes with this piece of the nappy bag.
This crib is adjustable and if you feel that your little one is growing out, you can choose to detach it easily. This will ensure that the basket becomes lightweight and you can travel smoothly with it.
Sometimes parents also have problems carrying such heavy pieces. Do not worry as this one is designed minutely and it has heavy padding so that your shoulders do not feel the excessive burden.
There is also a very convenient stroller strap and you can even choose to hang the bag to move about handsfree.
The quality of the material is waterfree and hence you do not have to worry about any kind of possible wear and tear.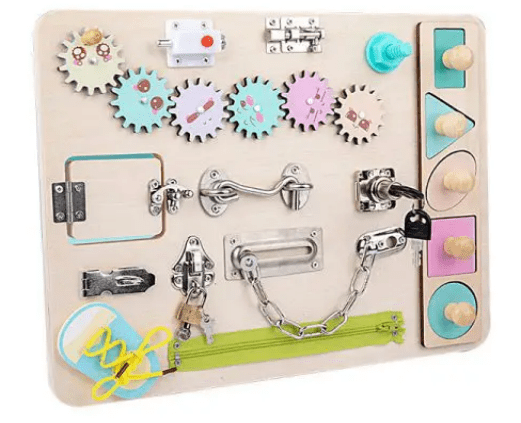 Next in line is the very popular BusyBoard from none other than BabySteps. This one is designed specifically for toddlers and the major work is to keep them engaged just like the name would suggest.
Firstly, the material of the board is wood and hence it is completely non-toxic and best suited for the direct use of your kids.
It is during these formative years that the toddler builds on a lot of developmental abilities and the visual motor skill is one of the most important ones.
When you let your kids play the puzzle and tap on the clutches a lot of eye and hand coordination is facilitated.
The sensory facilitation helps the parents develop the habit in the child from the pre toddlers age itself.
This particular busy board is also quite lightweight and hence if you are travelling, this will be the perfect partner to keep your little one entertained for hours.
Another very mentionable point about the board is that it is 3D in nature. Hence the sensation is quite well developed and the toddlers develop an interest as well.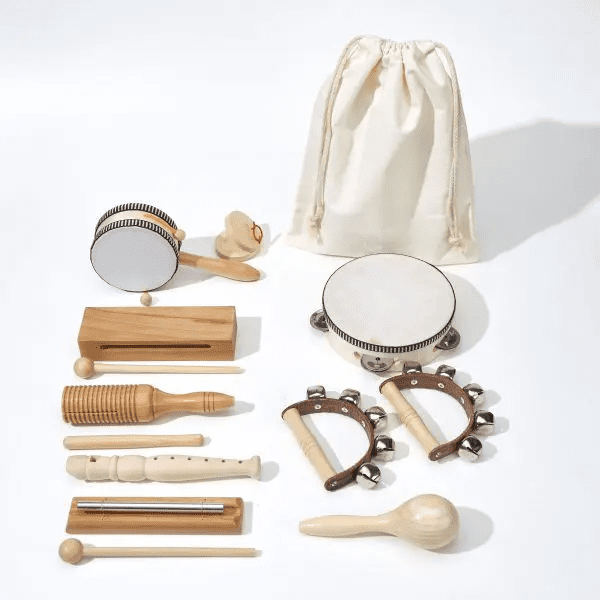 Most musical prodigies not only are talented but are also exposed to the domain of music from their very childhood only. This one is a 15 piece instrument and the kids will be delighted for sure.
Also, the auditory sensation develops manifold and as a result, your little one will develop a sense of rhythm from the very childhood itself.
This one too is a wooden set and hence direct exposure is absolutely safe because there are no harmful toxic substances involved.
The set is also charismatic to look at and even your little ones will develop a lot of liking towards the same.
There are quite a few inclusions and hence one can find minute drums as well as flutes which are perfect for their grip as well.
The lightweight of the wood is one of the primary reasons why they are so travel-friendly and your kids will never get bored.
If you are an aunt or uncle, this can be the perfect gift option for the new member.
More than that, instead of all these structural implications, the weight of the carrier is quite light and hence can be carried easily.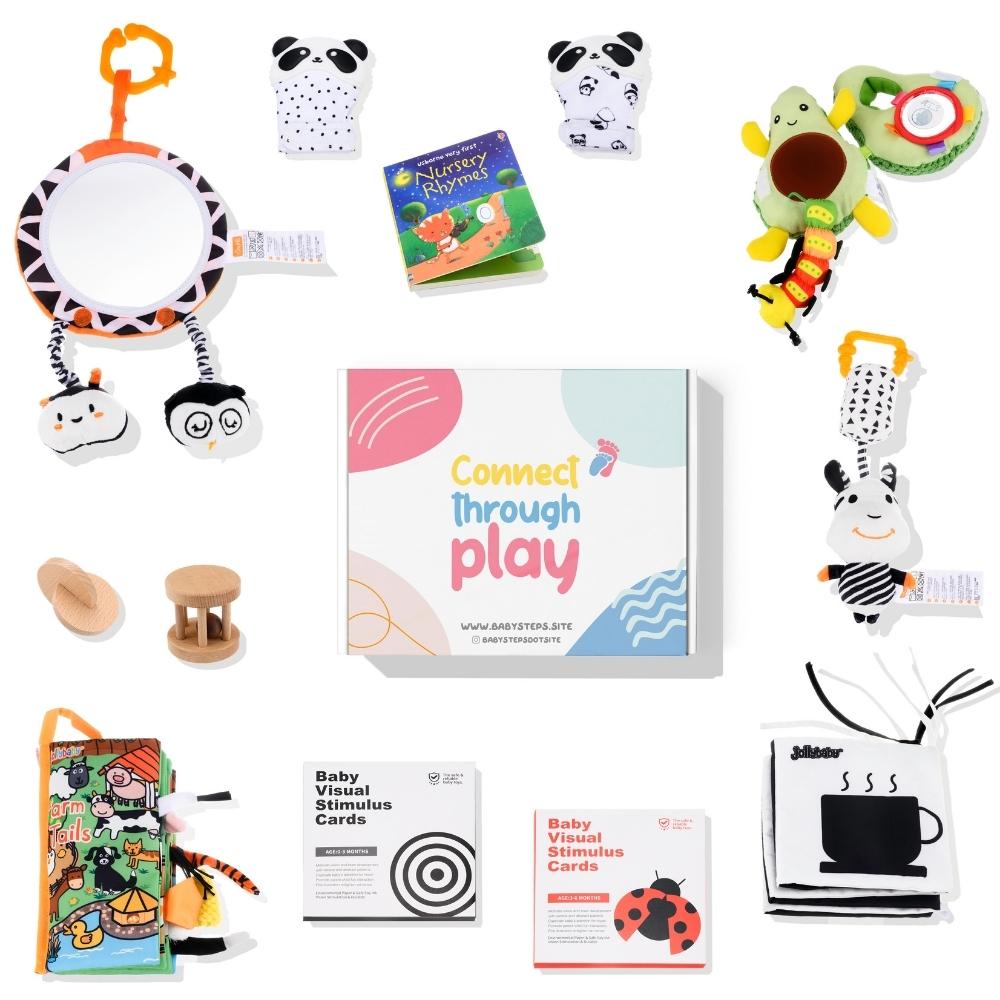 Wooden Toys is always a safe option particularly when you are about to gift them for newborns or even toddlers. This particular one is a comprehensive set and there are tons of colourful small pigs.
It is more of a visual sensation to the little one and they can easily learn a lot about the primary colours. It is because of the wooden material of the set which makes it of such superior quality.
If there is something that little ones always need, then it is definitely a fresh pair of bibs and a set of cups.
The best part about the silicon ones is that they are extremely accessible and you can use them to wipe the baby's mouth every time after they finish a meal.
What makes the silicon Bib and cups quite a good choice is that they are long-lasting and even if your baby grows up, you can use them very easily.
Doesn't that sound like a wonderful choice?
How wonderful would it be if you could give a set which is equally meaningful for the mother as well as the baby?
This gift set from BabySteps is the perfect explanation of the same. It is curated so beautifully that it makes up the best choice as a baby shower gift.
There is an amalgamation of a beautiful bib as well as a double-sided blanket which is made of the most comfortable material.
It does not end here, the box even contains a beautiful hairbrush that has the softest bristles for the right use of your newborn.
Additionally, there are a couple of wooden toys which are important for every baby and also a promiscuous Welcome Baby banner.
Doesn't it sound like the perfect gift?
Baby Shower is a time where you get to shower ample blessings however a bit of thoughtful gifts goes a long way. If you choose the ones that we have mentioned above, not only are they well equipped for the newborn years but even the toddler years will be greatly facilitated by the same. BabySteps is a great site to choose the gifts from and the credibility is simply unmatched.