If you have a baby in your house, then you might have spotted them playing with objects. It may seem overwhelming to witness their growth. Toddlers are easily satiated by their desire to move objects with their hands.
However, sometimes it can be dangerous for them to move objects around which can possibly hurt them. Therefore, to minimize the risk of hurting themselves or breaking an object that may be precious in the house, busy boards were invented.
What are Busy Boards?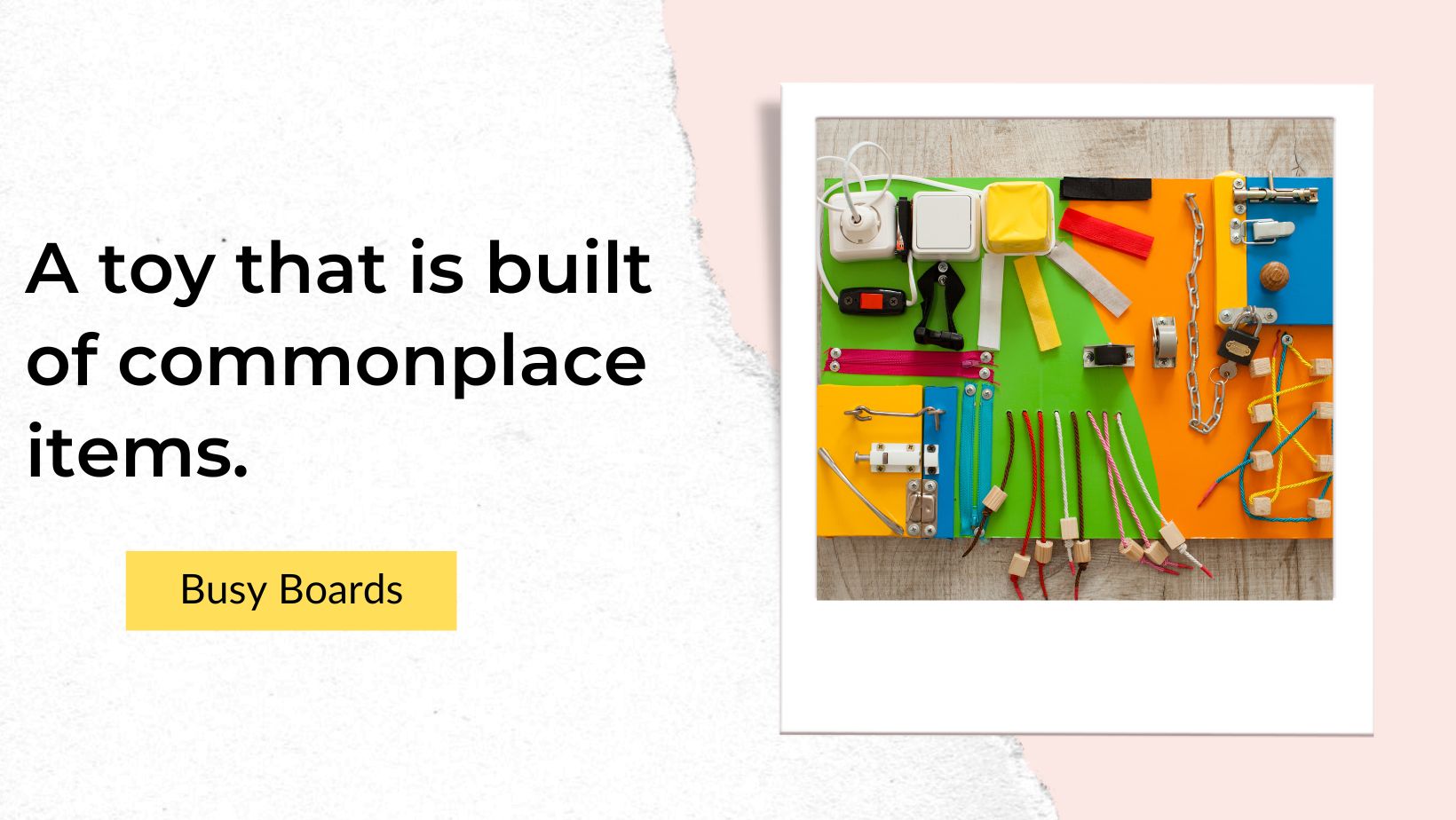 A busy board can be understood as a toy that is built of commonplace items. This board tends to pique children's curiosity and urge them to explore. As the act of playing is crucial to a child's growth – it can develop motor skills by allowing them to touch and examine various objects around them.
On the other hand, the busy boards give parents peace while keeping the children occupied, educated, and happy. Some of the busy boards are portable, while the rest of them are designed to be stationary, both in size and weight.
Things to Consider When Buying the Right Busy Board for the Child
Here is a list of a few things that you must consider when buying the right busy board for the child.
Portability
One of the first things that you must keep in mind when buying a busy board is portability. The busy board you are buying should be easier to carry anywhere you want as per your need or the safety of the child. 
This is because when you buy busy boards that are meant to fix in one place, it simply starts to feel like a blockage in the room after a while. Whereas, the portable busy board will keep you convinced without taking up much space in the space.
Aesthetic
Another thing to keep in mind is to look into the aesthetic of the busy board. It should have appealing colors enough to attract the child and also match the existing interior of the child's room.
However, the colors it should have must not be too catchy or bright that it starts triggering the mind of the baby.
Safety
When buying a busy board, this is the most important factor to look into. Your child would love to get involved with the busy board especially once he or she knows how to play with it.
This is why it is vital to make sure that the busy board is safe to use and cannot harm the child in any way. It should have objects that have safe edges or cannot hurt the tiny fingers of the baby.
Objects
It is important to know that the busy board will have different objects in each. They are all unique on their own. So the busy board you are choosing should have objects that your child can understand to play with or handle.
You can simply consider the age of your child when buying a busy board so that it does not feel overwhelming for them to play with. Doing this will also help them to develop their certain skills with time and without any obstacles.
Material
The material of the busy board should be safe for the child's environment. For instance, you can opt for wood as it is considered to be safe and natural in every way.
Wood busy boards do not have any toxic chemicals that can threaten your child's health. Not to mention, wooden materials are preferred these days as they are safe for the environment as well.
Size and Weight
The size and the weight of the busy board also matter. As a parent, you should make sure that the weight and size of the board are huge enough to support your child completely especially if she or he tries to lean on it. 
Buying a lightweight busy board means it allows babies to carry it and play with it in different environment. Some parents use it as a distraction tool to keep babies engaged in the car while travelling. This especially helpful if your child has motion sickness issue. 

If you are still confused, you can open up live chat so that we can recommend you the busy board that is right for you child!